Modere Logiq with TetraBlend Formula
Our groundbreaking Modere Logiq Coffee with TetraBlendTM custom blend formula and keto-friendly Modere Logiq Creamer are included in the Essential Modere Logiq Collection.
This product pair provides exceptional cognitive support* as well as high-quality brain fuel.
Logiq with TetraBlend Coffee is a combination of strong botanicals and an amino acid that helps support four critical aspects of cognitive function: mood, focus, memory, and healthy brain aging.
C8 MCTs and grass-fed butter are added to Logiq Creamer for an optimal brain-boosting experience.
A serving of Liquid BioCell is provided by Modere Logiq with TetraBlend + Logiq Creamer.
Every evening, use your favorite Liquid BioCell or Trim product to get the full Collagen/HA Matrix Technology joint and skin benefits.
Modere Logiq Benefits
Supports a positive mood* Improves focus and attention* Aids memory and learning*
Aids in the creation of the neuroprotein BDNF, which is necessary for healthy brain aging*
BDNF has been found to boost alpha waves in the brain, which are linked to mindfulness and a calm mental state without drowsiness* L-theanine has been shown to dramatically increase alpha waves in the brain, which are linked to mindfulness and a relaxed mental state without drowsiness*
Supports the appearance of healthy skin, hair, nails, and joints*
Brain nourishment that is readily available
Provides high-quality energy in a timely manner.
Supports the appearance of healthy skin, hair, nails, and joints*
Modere Logiq Nutrition Label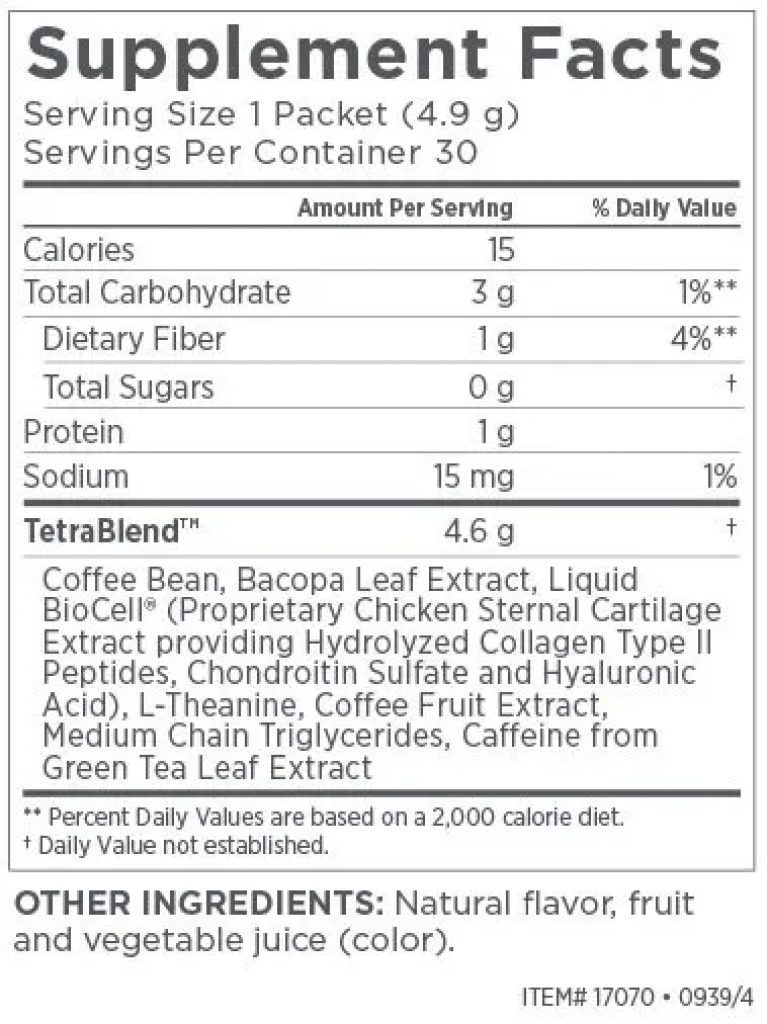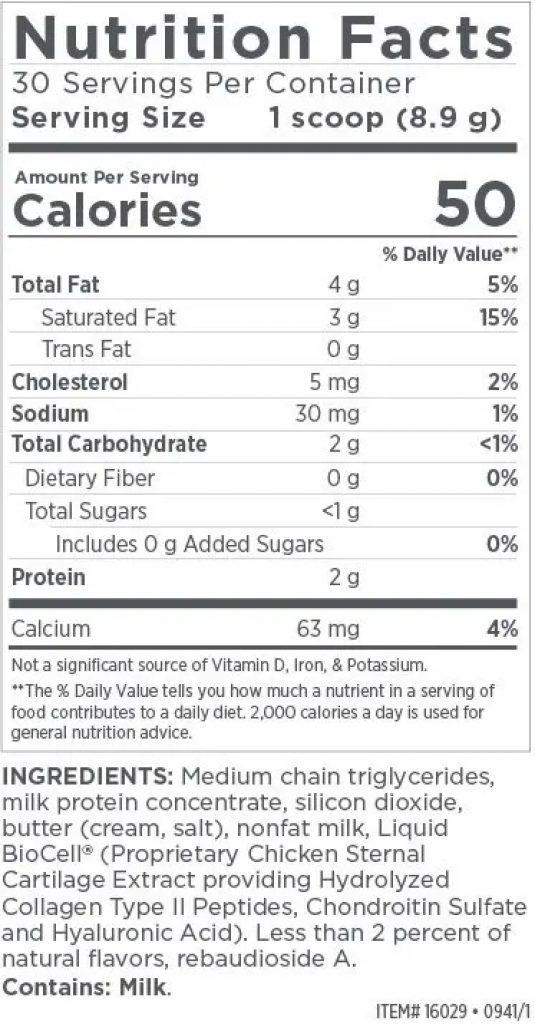 Modere Logiq TertaBlend Coffee
Logiq is more intelligent than coffee.
If you include it in your morning routine, you will think more clearly, look better, and accomplish more.
We didn't sacrifice any of the quality coffee experience you know and love; instead, we elevated it to new heights.
Logiq has a delicious flavor that you will enjoy.  But Tetrablend, a customized blend of proven, potent nutrients aimed at whole brain health, is the true secret. It can help you be more, do more, and feel better. Plus, when combined with your favorite Liquid BioCell or Trim product, Logiq includes our award-winning, multi-patented Collagen/HA Matrix Technology, which is known for its excellent skin, hair, nail, and joint benefits.
As a result, you will not only feel younger, but you will also appear younger.
Modere Logiq Creamer
Modere Logiq Creamer is a tasty, keto-friendly creamer substitute.
It's more quickly turned into ketones than coconut oil or other MCTs, thanks to grass-fed butter and C8 medium-chain triglycerides—because not all MCTs are made equal—for immediate, high-quality energy to power the brain.
For a powerful boost to start your day, add one scoop of Logiq Creamer to Modere Logiq with TetraBlend Coffee, along with your morning serving of award-winning Liquid BioCell.
Continue to use your preferred Liquid BioCell or Trim product in the evening for all of the Collagen/HA Matrix Technology's joint and skin benefits.
For a tasty, energizing boost, try Logiq Creamer in coffee, tea, smoothies, oats, or any other beverage or food.
The health market is full of nootropics these days. Even you aren't familiar with the phrase; you've seen the health claims.
Nootropics are cognition-enhancing supplements, which specifically target memory, creativity, motivation, and decision-making brain functions.
The nootropic you know best is probably caffeine. The FDA has also approved several prescription-level nootropic drugs.
The nootropics present in Modere Logiq are available, like caffeine, without a prescription.
Modere Logiq Ingredient Review
The active ingredients in Modere Logiq Creamer are ingredients that have been scientifically proven in clinical trials to help manage gastrointestinal disorders, strengthen joints and reduce joint pain, increase skin quality and elasticity, and reduce pain related to osteoarthritis.
The active ingredients in Modere Logiq are:
Medium chain triglycerides

Liquid BioCell
The active ingredients are animal-derived, so this product may not be appropriate for vegetarians.
Also, since the creamer contains dried dairy products, lactose-intolerant people should approach this creamer with caution.
C8 Medium Chain Triglycerides
Medium-chain triglycerides (MCTs) are a lipid that the body can easily absorb. Many nootropics include MCT oil as one of the main ingredients.
MCTs have been proven to manage several gastrointestinal disorders. Scientists are still researching MCT's other possible health benefits:
Reducing obesity

Curtailing cardiovascular disease

Minimizing the effects of neurological disorders
Not all MCTs are the same. C8 MCTs convert more rapidly into ketones than other MCTs, providing high-quality brain fuel.
Liquid BioCell
Liquid BioCell is a proprietary ingredient from Modere, which includes a Chicken Sternal Cartilage Extract. The extract is a source of Hydrolyzed Collagen Type II Peptides, Chondroitin Sulfate, and Hyaluronic Acid.
Hydrolyzed Collagen Type II Peptides
Peptides naturally occur in every cell and tissue of our body and help to balance our body's physiological processes. Maintaining the proper level of peptides in our bodies to keep our body processes level and stay healthy.
Peptides are messengers that carry important information to various tissues and cells in our bodies. When they bind to cell surfaces, they can signal our bodies to make health improvements and solve problems.
Collagen is one of our skin's building blocks. About ⅓ of your body's protein is composed of collagen. Numerous studies have shown that incorporating collagen into our diets can result in:
Recovery of lost cartilage

Increased skin elasticity

Strengthening of ligaments and tendons

Less joint pain during physical activity

Increased lean body mass (especially as we age)
Type II collagen comes from animal cartilage. In this case, it comes from chicken cartilage. Hydrolyzed collagen is more easily digested and absorbed by the human body and is found in many collagen powders.
Chondroitin Sulfate
Chondroitin sulfate (CS) naturally occurs on animal cartilage. It's often used in combination with collagen, hyaluronic acid, and othe ingredients to help safely manage the symptoms of osteoarthritis.
Clinical evidence shows that CS slowly improves osteoarthritis-related joint pain. It has anti-inflammatory properties that slow joint breakdown and help reduce muscle-related pain.
Hyaluronic Acid
The primary function of hyaluronic acid in our bodies is to help tissues retain water and stay lubricated. The highest concentrations of hyaluronic acid in our bodies are in our eyes and joints.
You may have seen hyaluronic acid as an ingredient in skin moisturizer. However, the FDA has approved it for injection into the eye for cataracts and joints for osteoarthritis.
Taken internally, studies show that hyaluronic acid:
Increases skin elasticity

Improves skin hydration

Decreases skin roughness

Lessens wrinkle depths
Other Notable Ingredients
Milk protein concentrate
Grass-fed butter

– Made from cream and salt
Silicon dioxide

– An anti-caking agent that helps fine powders absorb water

Natural flavors

– Less than 2%

Rebaudioside A

– a stevia-derived sweetener with little aftertaste and a glycemic index of 0