Modere Logiq Con Cafe Tetrablend
Logiq is smarter than coffee. Add it to your daily morning ritual, and you will think sharper, look better and achieve more.*
And we didn't sacrifice any of the premium coffee experience you love—we just took it to a whole new level.
You're going to love the taste of Logiq. But the real secret is Tetrablend, a proprietary combination of proven, powerful ingredients focused on complete brain health to help you be more, do more and feel amazing. Plus, Logiq features our award-winning, multi-patented Collagen/HA Matrix Technology, renowned for its amazing skin, hair, nail and joint benefits when combined with your favorite Liquid BioCell or Trim product. So you'll not only feel younger, you'll look younger too.*
Wake up with Modere Logiq, for increased focus, energy and concentration.
This rich, tasty supplement, enhanced with our patented TetraBlendTM coffee and Liquid BioCell® collagen, provides great cognitive support in four essential ways: it supports mood, increases focus, aids memory, and promotes healthy brain aging*.  Logiq is a daily stroke of genius since it's an instant pick-me-up that's wonderful hot or iced.
Product Benefits

Our exclusive TetraBlend Coffee is formulated to support four

key areas of cognitive function:

Mood: Supports healthy mood*

Focus: Boosts attention and focus*

Memory: Supports memory and learning*

Healthy brain aging: Supports production of the

neuroprotein BDNF*

BDNF is thought to play a role in the maintenance of neurons, as

well as learning, memory and higher thinking.*

L-theanine is shown to significantly increase alpha waves in the

brain, which is related to mindfulness and a relaxed mental state,




without drowsiness.*

Keto friendly, zero sugar, non-GMO, gluten free
Benefits
Supports healthy mood*
Boosts attention and focus*
Aids memory and learning*
Assists the production of neuroprotein BDNF for healthy brain aging*
BDNF may play a role in the maintenance of neurons, learning, memory and higher thinking*
L-theanine is shown to significantly increase alpha waves in the brain, which is related to mindfulness and a relaxed mental state, without drowsiness*
Supports healthy skin, hair, nails and joints*†
Features
Collagen/HA Matrix Technology
Keto friendly
Zero sugar
Gluten free
No animal testing
BPA free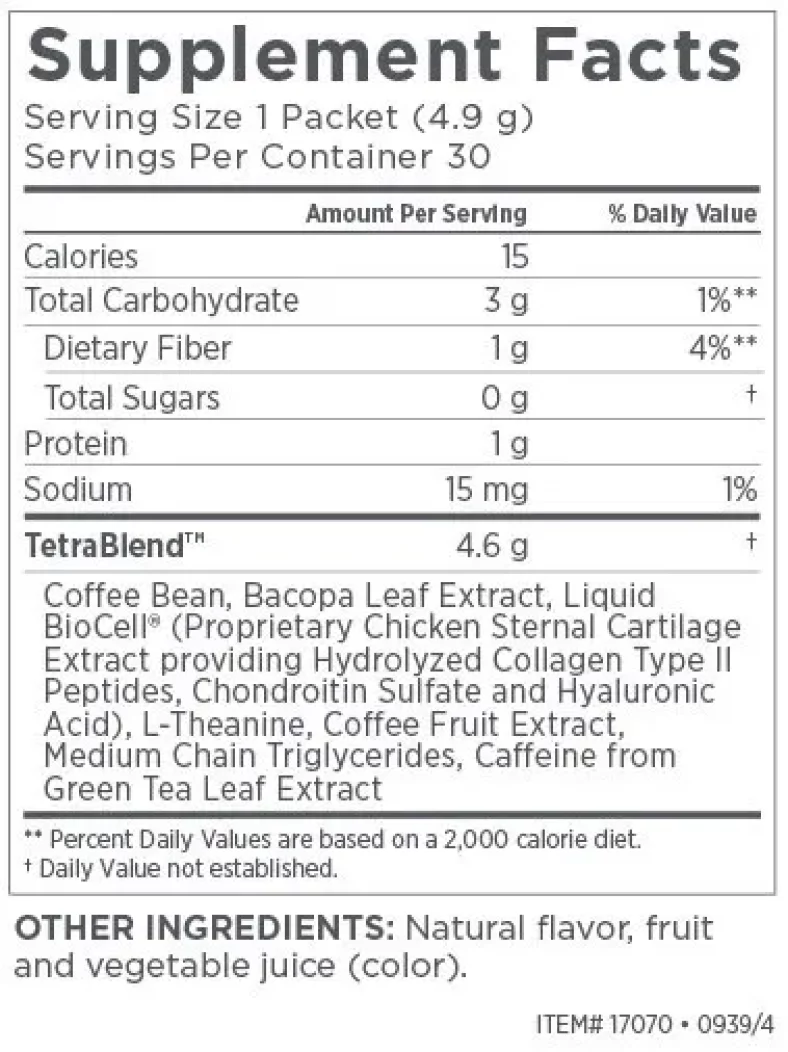 Key Ingredients
Bacopa monnieri

L-theanine

Coffee fruit extract

Natural caffeine from green tea and coffee

Liquid BioCell
Modere Logiq Tetrablend FAQ
Modere Logiq Con Cafe Tetrablend