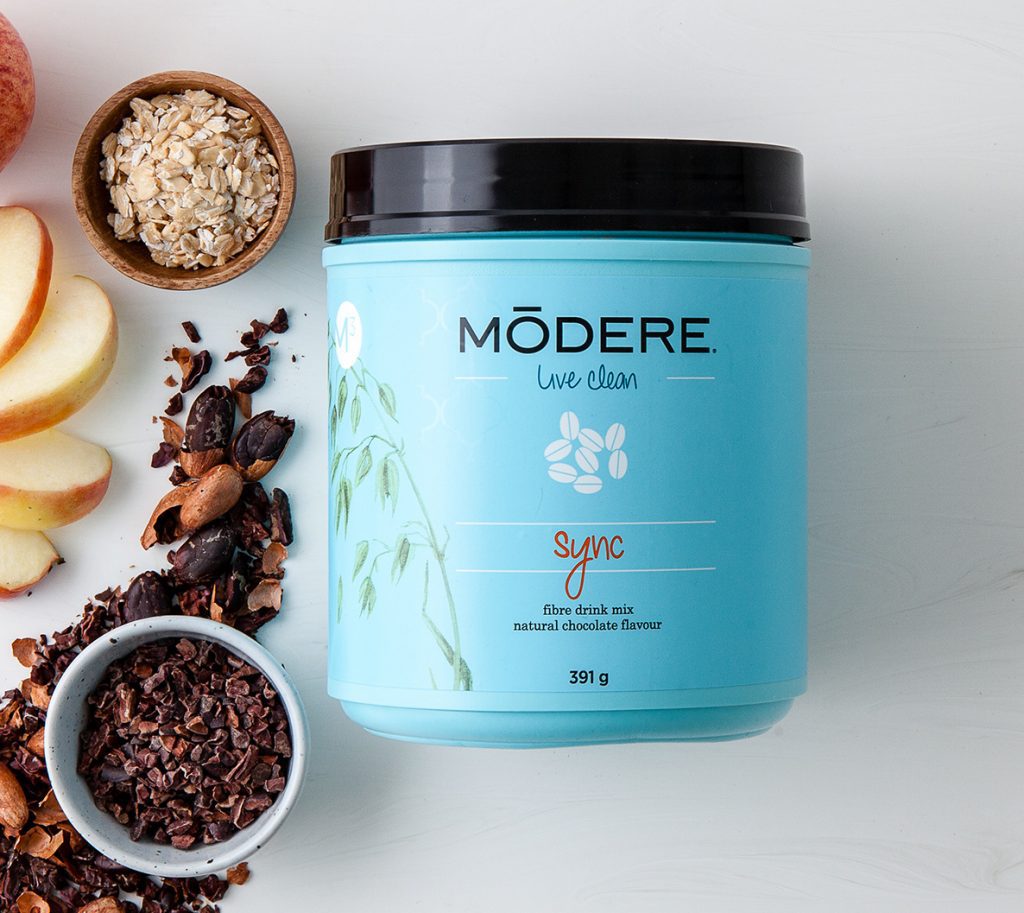 Curb your Appetite with Modere Sync
It's never easy to control your appetite. Unfortunately, this is why you'll often find someone taking a variety of weight-loss products but seeing no substantial results. Is that something you've heard before?
If this describes you, the Modere Sync weight reduction supplement may be right for you.
Continue reading for a full Modere Sync review.

You'll discover more about this product so you can determine if it's right for you if you want to reduce weight and curb your late-night cravings.
What Is Modere Sync and How Does It Work?
Modere Sync is a drink mix that helps to improve digestion while also reducing food cravings.
The chocolate-flavored gluten-free smoothie is made with a special blend of plant fibers. The principal ingredient, oat bran, is responsible for the feeling of fullness in Modere. It also contains fructooligosaccharides and inulin, prebiotic fibers that promote the growth of beneficial bacteria in the gut.
Modere Sync will help you achieve a total physical makeover by curbing your appetite by making you feel full and lowering your cholesterol levels.
Any reservations or concerns you may have regarding this product should be dispelled by the fact that Modere is a well-known multi-level marketing firm with a good reputation. However, before jumping to any judgments, make sure to read the rest of our review.
Is Modere Sync Safe?
Modere Sync is safe for human ingestion, just like the other supplements in this category. However, if you have any negative side effects after using this medicine, which is quite unusual, you should consider stopping use of the product.
Moderate Sync Ingredients
The product is mostly made up of whole oat bran, apple pectin, and acacia gum, but it also contains other components, some of which are flavoring agents.
Fiber in Modere Sync aids digestion, purifies the gastrointestinal tract, and promotes regularity.
Prebiotics, such as fructooligosaccharides and inulin, are also present in the drink, which aid intestinal health.
Sync, on the other hand, has one flaw. It only has 3 grams of fiber per serving, which is insufficient for a fiber supplement and reduces the advantages.
Let's look at each of the elements one by one.
Oat Bran (Whole)
Oat bran is the outer layer of the oat groat kernel and is a portion of the oat grain. The bran is found just under the grain's inedible outer layer.
Beta-glucan, a type of soluble fiber found in oat bran, is abundant. Furthermore, entire oat bran contains low levels of folate, calcium, vitamin B6, and niacin.
The whole oat grain contained in Modere Sync is vegan and gluten-free, despite the fact that oat bran can become contaminated during processing or even during the growing process.
Polyphenol compounds found in oat bran also act as antioxidants. Antioxidants protect your body from free radicals, which are potentially dangerous substances. Radicals in high concentrations can harm cells, resulting in chronic illnesses.
Phytic acid, ferulic acid, and avenanthramides are some of the other antioxidants present, which help to reduce inflammation and blood pressure. Avenanthramides have also been linked to anti-cancer effects.
Whole oat grain has a number of health benefits, including:
Reduced constipation and relief from symptoms associated with certain disorders are just a few of the gut health benefits.
It may aid in the management of blood sugar levels.
Reduces the chance of heart disease
Healthy bowels are aided by this supplement.
It's possible that it'll help with IBD symptoms (Inflammatory Bowel Disease)
Pectin from apples
Apple pectin is a soluble fiber that is naturally found in apples. It's an important part of Modere Sync because it's known to provide a variety of health benefits.
Many individuals feel it aids in the improvement of digestive health as well as the treatment or prevention of metabolic and gastrointestinal problems. Pectin generates a gel-like substance in the digestive tract when it interacts with water, which may help with bowel movement.
Is there any health benefit to pectin?
It certainly does! The pectin in Modere Sync provides a variety of health benefits, including:
It binds to bile in the intestines, which may help decrease cholesterol.
By binding with carbs in the gut and stomach, it may help lower blood sugar levels.
Irritable bowel syndrome is relieved by it (IBS).
It aids in the relief of constipation.
Acacia Gum
The acacia tree produces gum acacia, a water-soluble dietary fiber. This feature of Modere Sync makes you feel full, allowing you to avoid eating earlier than you would otherwise.
Acacia also aids in the treatment of excessive cholesterol, irritable bowel syndrome, diabetes, and other ailments. As a result, utilizing it is likely to result in lower cholesterol and weight loss.
Additional Ingredients
Modere Sync also contains the following ingredients:
Cocoa
Flavors from nature
Pea fiber that is organic
Salt
Glycosides of steviol
What Are Some of the Modere Sync Ingredients' Side Effects?
As beneficial since this drink is, resist the impulse to add a big amount to your diet, as this can result in overconsumption, which could cause stomach distress.
Among the symptoms you'll notice are:
Constipation
Diarrhea
Uncomfortable stomach
Flatulence
Gas
Nausea
Bloating
What Do Regular Folks Have to Say About Modere Sync?
It makes me feel complete! It has a delicious chocolate flavor and may be mixed with water or almond milk.

I never felt satisfied after a meal and was always hungry for more.
That issue was promptly resolved thanks to Sync!

April Whitlock is a writer who lives in New York City.
It taught me to consume less calories.
Also delicious as a dessert.


Susan Eby is a writer.
This product meets my expectations.
I mix this with water in a shaker and drink it before going to bed.
Positive outcomes the next day!


Cynthia Miller is a writer.
It tastes just like ordinary chocolate milk when mixed with milk—delicious! it's
It satisfied my hunger, so I didn't have any late-night cravings.
This is fantastic!


Wiggins, Tabatha
Take it with you
Modere Sync is a straightforward and easy-to-use application. It's a liquid drink mix, which makes it easier to adjust your dose if necessary. The majority of people prefer to begin slowly and gradually increase the amount of food consumed.
Despite the fact that Modere Sync comes from a reputable brand, it may not be suitable for all users.
Furthermore, as previously said, some persons will encounter negative side effects.
Remember that most of the ingredients, such as whole oat grain, gum acacia, and pectin, have no solid scientific proof to support their health advantages.