What are the Benefits of Liquid Biocell Life?
Product Benefits
• Promotes healthy cartilage and connective tissue* • Improves joint mobility and lubrication*
• Reduces joint discomfort*
• Reduces skin dryness*
• Improves hydration, firmness, and elasticity of the skin*
• Increases the amount of collagen in the skin*
• Lowers hyaluronidase, an enzyme that causes skin to age*
• Helps to maintain cardiovascular health*
• Supports the health of your hair, nails, gums, and eyes*
• Delicious natural fruit flavor
• All products designed with our patented Collagen/HA Matrix® Technology help to prevent skin photoaging, improve joint and muscle fitness, connective tissue health, restore youthful skin, and promote healthy hair, nails, gums, and eyes*.
Modere Liquid Biocell LIfe – Before and After
What are the beneifts of BioCell Collagen?
BioCell Collagen® is a dietary supplement made up of naturally occurring hydrolyzed collagen type II peptides, chondroitin sulfate, and hyaluronic acid that has been clinically investigated.
BioCell Collagen® improves active joints, youthful-looking skin, and healthy connective tissues, according to clinical studies.
People take BioCell Collagen by mouth for aging skin, exercise-induced joint pain, osteoarthritis, and wrinkled skin.
BioCell Collagen is used on the skin to treat aging, dry, and wrinkled skin.
Several research studies, including seven human clinical trials, back up BioCell Collagen safety, effectiveness, and bioavailability.
How does BioCell Collagen work?
BioCell Collagen might increase levels of collagen in the skin. Collagen gives skin its strength and elasticity.
Is Biocell Collagen Safe?
BioCell Collagen is GRAS-certified (Generally Regarded As Safe).
BioCell Collagen is gluten-free, soy-free, shellfish-free, fish-free, egg-free, milk-free, peanut-free, and sugar-free
About the creators of Liquid Biocell – Modere
The Ivy League-educated scientific team at Modere Collagen Sciences controls a 150,000-square-foot manufacturing and product development facility that complies with the US Food and Drug Administration's Current Good Manufacturing Practice criteria (FDA).
The cutting-edge product line is based on the Liquid BioCell formulation, a one-of-a-kind product that combats aging and joint damage from the inside out.
The medicine, which is backed by 37 clinical trials and seven U.S. and international patents, has been shown to work for both humans and pets.
Modere Liquid Biocell Life
Modere Liquid BioCell Life is a multi-patented supernutraceutical that combines Liquid BioCell collagen's award-winning advantages with 13 phytonutrient-rich superfoods and resveratrol to help enhance joints, skin, and the aging process.
Clinical studies have proven that its award-winning, multi-patented Collagen/HA Matrix Technology improves joint mobility, reduces discomfort, and promotes healthy cartilage and connective tissue.
It only gets better.  Liquid BioCell minimizes wrinkles from the inside out, and it even goes a step further by assisting in the reduction of an enzyme that causes your skin to age.
The Science Behind Liquid Biocell
Clinically Proven Anti-Aging Formulation
Reduction of Global Facial Lines and Wrinkles
Skin aging in the face culminates with the appearance of visible signs such as wrinkles and lines. Measurement of these aging signs using visual/tactile scores showed that 12 weeks of supplementation with BCC led to significant improvement of facial lines and wrinkles with an average reduction of 13.2% (P = 0.028) from baseline (Schwartz). 

An initial increase was noted at week 6 (22.4%, P < 0.001). Another facial aging sign, crow's feet, displayed a similar trend with a significant increase during the first 6-week period (50.7%), followed by a significant decrease (−30.4%) in visible aging signs between weeks 6 and 12 (Schwartz).  
Unlike facial lines and wrinkles, however, crow's feet were not affected significantly by the end of study compared to the baseline level.
Skin Dryness and Scaling
Facial dryness and scaling may be associated with the water content in the skin and the skin aging process. Skin dryness or scaling was measured using visual/tactile scores; its mean value at week 12 decreased significantly by 76% (P = 0.002) from the baseline level, suggesting that BCC ingestion reduces skin dryness and scaling (Schwartz).
Liquid BioCell Life combines the multi-patented power of Collagen/HA Matrix Technology with the added advantages of 13 phytonutrient-rich superfoods and resveratrol, all of which are combined into a unique liquid delivery system that allows for rapid absorption and results.
Natural wear and tear of connective tissue, where both collagen and hyaluronic acid (HA) are needed, can cause visible indications of aging and joint stiffness.
Liquid BioCell restores these vital nutrients and has been clinically proven to be effective.
Liquid BioCell has received seven U.S. and international patents, as well as other industry accolades.
It's appeared on NBC's Good Morning America and Fox News a few times.
Modere Liquid Biocell Reviews
AWARD WINNING, MULTI-PATENTED, CLINICALLY TESTED EFFECTIVENESS
BEST HEALTH DRINK
(awarded for Modere Logiq™) Beauty Shortlist Mama & Baby Awards, 2019

BEST WEIGHT MANAGEMENT SUPPLEMENT
(awarded for Trim)SupplySide West Editor's Choice, 2018

FINALIST, PRODUCT INNOVATION AWARD
(awarded for Trim) DSA Awards, 2018

#1 ANTI-AGING ESSENTIAL
TasteForLife Supplement Essentials, 2015

BEST JOINT HEALTH SUPPLEMENT
SupplySide West CPG Editor's Choice, 2015

READER'S INGREDIENT OF THE YEAR
Nutraingredients Awards Winner, 2015

EDITOR'S PICK
Remedies Magazine, 2015

FINALIST, MOST INNOVATIVE DIETARY INGREDIENT
Nutraceutical Business & Technology Award, 2012

BEST BONE & JOINT HEALTH INGREDIENT
Frost & Sullivan Award Winner, 2011

EXEMPLARY US BRAND RECOGNITION
Beauty From Within Conference, 2011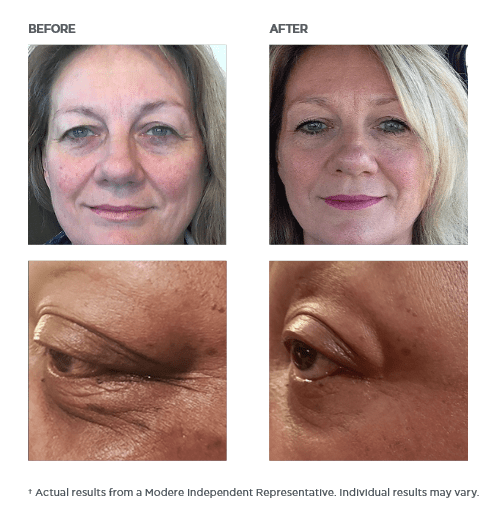 See the Proof:
See what Liquid BioCell® has done for real people who took the daily recommended does for 12 weeks†, and then see what it can do for you.
https://wellness-essence.com/product/modere-liquid-biocell-life/
https://wellness-essence.com/product/modere-liquid-biocell-life-chews/