Modere Revitalize
Natural, berry-flavored Revitalize not only replenishes 7 essential minerals and 70+ trace minerals, it also supplies fulvic acid from shilajit—an ancient herbal substance—to help increase bioavailability, so your body absorbs more of the minerals you consume. This powerful daily supplement transforms ordinary water with supercharged minerals, promoting optimal health and energy levels*.
Why drink ordinary mineral water when you can Revitalize daily?
Benefits
Provides a powerful blend of 70+ Sundance Sea trace minerals, shilajit from the Himalayan mountains and 7 crucial micro and macro minerals
Supports metabolism, enhances energy* and encourages hydration
Promotes healthy energy levels*
Supplies essential minerals to fill common nutritional gaps in modern diets
Dissolves in water for better absorption
Supports health and well-being*
Features
Convenient single-serve stick pack
Delicious mixed berry flavor
No sugar added
Non GMO, vegan and gluten free
15 calories per serving
Usage
Mix one stick with 8-16 oz. of water. Stir or shake to dissolve.
Ingredients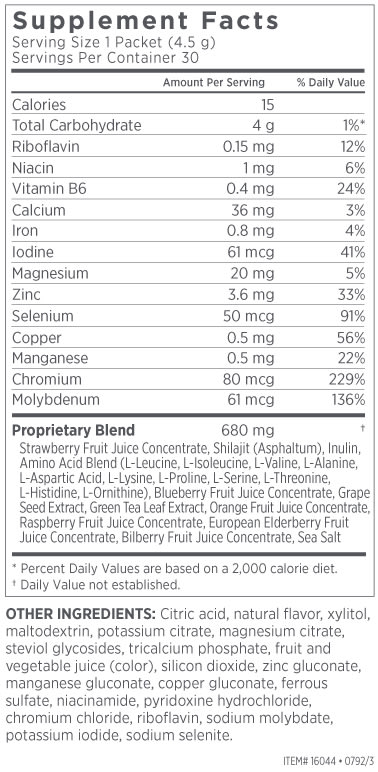 More products in Modere Health & Wellness Category