Modere M3 System Review
The Modere M3 Body System is a weight loss program offered by Modere.  It may be beneficial in assisting individuals in losing up to 2 pounds per week.
This regimen is centered on three different nutritional supplements: Modere Burn, Sustain, and Sync.  Individuals who acquire the Modere M3 Body System will consume these supplements on a daily basis, make minor lifestyle adjustments, and follow a Mediterranean diet.
Making M3 Body System a successful weight reduction plan involves specific lifestyle modifications in addition to the supplement benefits.
At least three of the following lifestyle changes are required:
Eliminate all sugary beverages
Eliminate all refined flour and sugar-containing foods.
Eliminate all fried foods
Consume 60 ounces of water daily
Daily walk 7,500 steps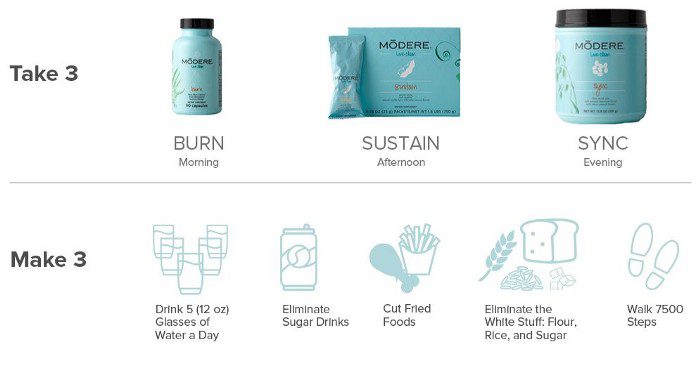 This provides us slightly more flexibility than other diets.  The Modere M3 Body System is an easier diet plan to follow as it doesn't require drastic lifestyle changes.  Unlike Keto or Paleo diets, the M3 Body System does not require any significant adjustments.  It does not completely eliminate any food groups.
As a result, it is easier for them to maintain healthy eating habits after attaining their goal weight and losing the excess weight.
The Modere M3 Body System's success is evident; numerous people have dropped considerable amounts of weight while following this diet plan.
What is not certain, however, is the extent to which the M3 supplements contribute to this reported weight loss or if the weight loss is from the minimal lifestyle changes.
We examined these three goods in greater detail to acquire a better understanding of their aims and effectiveness.
Burn
Modere Burn is one of three vitamins included in the Modere M3 Body System program.
It's a "science-based thermogenic," according to their product page.
All of its constituents are taken from plants, some of which are rumored to have fat-burning properties.
Modere Burn is available in pill form.
The initial dose is designed to be taken in the morning, but it may be taken up to three times daily if necessary.
Simply ensure that it is at least three hours after the prior dose.
As a result, your metabolic rate and energy levels should be increased throughout the day.
Each dose contains 60 mg of caffeine, for a total of 180 mg per day.
This high caffeine content is how Burn provides an energy boost.
Additionally, it contains 167 percent of the daily vitamin C requirement.
Antioxidants, including vitamin C, have been proven to encourage weight loss.
Another significant component is chromium, which accounts for 229 percent of the recommended daily intake in each pill.
We shall further discuss this unusual vitamin later on.
Additionally, kelp extract, cocoa bean extract, guarana seed extract, allspice fruit, cassia cinnamon bark, and ginger root are included.
Sustain
Modere Sustain is the package's second supplement.
Its major objective is to boost energy, curb cravings, and keep you feeling full throughout the day.
It is a 90-calorie pea-protein smoothie that is intended to be consumed in between meals rather than as a meal replacement.
It is available in two flavors: chocolate and vanilla.
Modere Sustain contains one gram of fiber and ten grams of protein per serving.
It is low in saturated fat and sugar-free.
As with Burn, it is a good source of chromium.
Modere Sustain, according to the product page, also promotes healthy skin and a robust immune system.
With 50% of your daily vitamin A and 20% of your daily vitamin C, it can reliably improve the strength of your immune system.
Additionally, it contains 40% of the recommended daily vitamin E and 300% of the recommended daily biotin, both of which promote healthy skin, hair, and nails.
Sync
Modere Sync's major objective is to alleviate evening cravings.
As with Sustain, it is a shake and is not intended to be a meal replacement.
It should be consumed a few hours before bedtime, ideally with meals.
Modere Sync's primary ingredient is whole oat bran.
This substance is high in fiber and is the primary factor responsible for maintaining fullness throughout the night.
This powder has 50 calories, 3 grams of fiber, and 2 grams of protein per scoop.
Additionally, fructooligosaccharides and organic inulin are present.
Both of these components are prebiotic fibers that may aid in digestive health.
How it Operates
Unlike many other weight-loss programs, the majority of the claims made by Modere are rather realistic.  It does not claim that supplements alone will produce effects; lifestyle adjustments and adherence to the Mediterranean diet are also encouraged.  Due to this many people have accomplished weight loss results.  However this does cause confusion as to whether the M3 supplements result in the weight loss or if the lifestyle change results in the weight loss.
Additionally, it offers a safe and manageable weekly weight loss of 1–2 pounds.
As is the case with any successful diet plan, results will require time and work.
M3 supplements have a high concentration of protein and fiber, which boosts energy and fights cravings, assisting you in sticking to your diet.
Additionally, the goods include a high concentration of antioxidants, which aid in weight loss and overall wellness.
Select substances, such as berberine and fucoxanthin, are said to be scientifically proved to burn fat and increase metabolism on the product pages.
In contrast to the majority of fad diets, the M3 Body System does not terminate after you attain your desired weight.
To ensure that the weight loss is permanent, Modere highly recommends that you continue the Mediterranean diet eternally — along with restarting use of their Sync product and a new antioxidant supplement, Vital.
The Modere M3 Body System reviews tend to be positive and suggest that this diet plan is quite effective. However, there is still some doubt about the efficacy of certain claims, most notably those addressing the chemicals contained in the Modere supplements.
Investigations into Active Ingredients
The Modere M3 Body System places a premium on natural active substances.
They advertise themselves as a natural, science-based method of weight loss.
However, how much science actually supports these assertions?
Chromium
The Burn pills contain a high concentration of chromium or chromium picolinate.
According to the product page, this component may assist manage blood glucose levels, hence avoiding cravings.
Additionally, the product description referred to it as a "fat-burning" component.
According to the National Institute of Health, there is some evidence that chromium supplements can aid in fat loss and even muscle growth.
A 2019 study found that those who took 200–1000 mcg of chromium dropped 1.6 pounds more than those who took a placebo.
Additionally, there is some evidence that 1000 mg of chromium may assist in reducing cravings.
This dose, however, contains more chromium than the recommended dose of Burn.
Additionally, it is worth noting that chromium supplements may interact with certain prescription medications, including insulin and metformin, which are taken by persons with diabetes.
Additionally, it may impair the body's absorption of levothyroxine, a prescription medication used to treat hypothyroidism.
Burn contains only 80 mcg of chromium per capsule.
Nonetheless, the M3 Body System recommends consuming it up to three times day, which equals around 687 percent of the daily necessary chromium intake.
This dose reaches the effective threshold identified in the National Institutes of Health study.
Individuals who rely on the aforementioned medications should conduct extensive research and consult their physician prior to utilizing this supplement.
Mycelium of Cordyceps
Cordyceps Mycelium is a mushroom that has been used in traditional Chinese medicine for thousands of years.
It is primarily used to promote cardiovascular health and treat a variety of illnesses, however its effect on weight loss is unknown.
There is scant evidence that cordyceps mycelium can aid in weight loss.
Although a study with mice observed an increase in weight reduction and insulin sensitivity, animal studies are not always immediately applicable to humans.
When used medicinally, a dose of cordyceps mycelium between one and three grams per day is recommended.
However, the exact amount in M3 supplements is unknown; hence, even if this mushroom does have an effect on weight loss, it is unlikely that it is present in sufficient quantity in the M3 Body System to make a difference.
Berberine
Berberine is a naturally occurring chemical found in the Indian barberry plant.
There is some evidence that it may contribute to a variety of health benefits, one of which is weight loss.
A twelve-week study discovered that individuals taking 1500 mg of berberine daily shed an average of five pounds or 3.6 percent of their body fat.
This is a greater difference than the one found in the chromium trial.
Additionally, berberine may provide a variety of additional health benefits.
Similar studies have demonstrated that berberine supplements can help persons with type 2 diabetes maintain a healthy blood sugar level; its efficacy is comparable to that of metformin, a frequently prescribed medication for diabetes.
While additional research on berberine is necessary before any of these claims can be proved, there is a hopeful view on its usefulness.
As with the other two substances, the amount of berberine contained in the M3 Body System is unknown.
It is unknown whether it will be successful in promoting any of these benefits.
Extract of seaweed
Another element on Burn's ingredient list is seaweed extract, or more precisely fucoxanthin.
According to the description on the Modere product page, this substance may aid in fat oxidation.
Numerous investigations have been conducted to substantiate this assertion.
In a sixteen-week research conducted in 2009, volunteers who took 2.4 mg of fucoxanthin daily experienced a significant decrease in body weight.
However, this was a single study, and it was a particularly small one, with only 151 female participants.
Additional research is necessary to discover whether this substance has any effect and, if so, how much a person must take to be effective.
Sources of Caffeine
The Modere M3 Body System features a high caffeine content, which is a well known method of sustaining energy throughout the day.
Caffeine is derived mostly from coffee beans and green tea leaves in all three M3 products.
Along with providing energy, green tea is an excellent source of antioxidants and may help with weight loss.
Fruit of the Olive
Olive fruit extract is a primary source of nutritional content in the Burn supplement, according to the product page.
Additionally, olives are a cornerstone of the Mediterranean diet.
They are abundant in antioxidants and Vitamin E, which contribute significantly to the nutritional benefits of this capsule.
Root of ginger
The Burn capsules contain ginger root as an active component.
It is a natural antioxidant that has been shown to aid with digestion and reduce appetite throughout the day.
Further research is needed to understand whether ginger is indeed beneficial at assisting with weight loss and, if so, how much ginger one would need to ingest to gain those advantages.
The research on ginger root's effect on weight loss is limited and sparse.
The data, on the other hand, is somewhat in its favor.
According to a 2015 study, women who took ginger capsules had less appetite than women who got a placebo.
Protein from peas
Pea protein is a frequently used high-protein substitute for animal products.
Additionally, it is a component of Sustain and Sync.
Regardless of the source, maintaining a consistent protein intake is critical for people who are trying to lose weight.
Numerous dieters and nutritionists have observed that pea protein is very good at preventing sweet cravings.
Additionally, there is evidence that the amino acids found in pea protein can aid in muscle growth and fat loss.
However, additional research is required to state this with certainty.
Bran of Oats
Oat bran is the principal source of fiber in the Modere M3 Body System.
This substance has a variety of health benefits, ranging from digestive help to immune system boosting.
Numerous research support the efficacy of oat bran in weight loss; however, the majority of these studies involve individuals who consume cooked oat bran as a meal rather than as a component in the tiny M3 capsules.
As a result, its efficacy in the Modere M3 Body System remains uncertain.
Conclusion
It is reasonable to assume that participating in the Modere M3 Body System is an efficient method of losing weight.
Numerous individuals who have completed this weight loss program have reported great outcomes, and the evaluations on the official product website tend to be positive.
Nonetheless, the most, if not all, of these beneficial benefits are most likely a result of the lifestyle adjustments required by the Modere M3 Body System.
Restricting high-carbohydrate and high-fat items from one's diet, boosting water consumption, and increasing physical activity (in this case, 7500 steps daily) are sufficient to produce weight loss in the majority of people.
It is likely that these supplements will assist dieters in adhering to these lifestyle adjustments.
The entire system can cost several hundred dollars, and those who make such a big investment are more likely to adhere to their diet regimens.
Certain substances, such as fucoxanthin and berberine, have some scientific support for their weight loss benefits.
However, the precise amount of said components is unknown and most likely insufficient to have any discernible effect.
To obtain the benefits stated in these research, it would be preferable to just purchase supplements containing those exact substances.
Thus, you can be certain that you are receiving the correct dose to experience these results.
Other substances, such as cordyceps mycelium, have scant scientific support for their efficacy.
Burn's high chromium content may potentially pose special health hazards to certain individuals.
Fiber, caffeine, and protein are all well-known for their ability to boost energy and fulfill cravings.
Nonetheless, the fiber and protein doses in the Modere M3 Body System are negligible.
The three grams of fiber in Sync, which aids in the fight against nocturnal cravings, represents less than 8% of the daily required requirement.
An apple contains the same number of calories and twice the fiber as a banana.
Additionally, because the Mediterranean diet already supports a high protein and fiber intake, these additions may not be essential.
To summarize, while the Modere M3 Body System looks to be beneficial, this is more likely owing to the Mediterranean diet and lifestyle adjustments that accompany the M3 supplements.