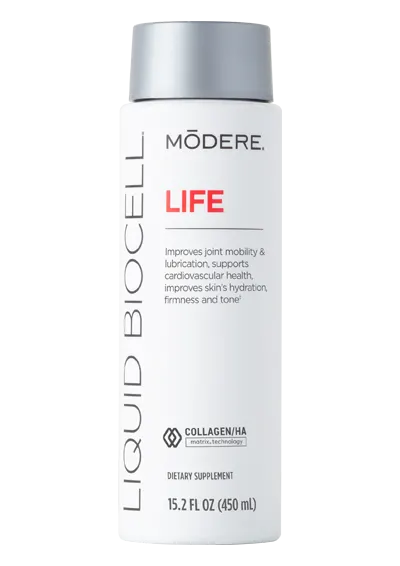 Modere Liquid Biocell Life User Guide
Modere Liquid Biocell Life promotes younger skin via a breakthrough formula containing collagen, hyaluronic acid, resveratrol, and 13 other phytonutrients. They have been combined into one efficient liquid delivery system for your convenience. Enjoy fast absorption and equally fast results.
How Does It Work?
Modere Liquid Biocell Life can help to reattain vibrant youthfulness and to reverse the clock and get back to feeling younger.
Joint discomfort and apparent signs of aging can result from run-of-the-mill wear and tear to the connective tissue, where hyaluronic acid and collagen are essential to the integrity of the tissue.
Moreover, Liquid BioCell can help restore these essential substances. The impressiveness of Liquid BioCell is demonstrated in the fact that it has earned multiple industry awards and 7 U.S. international patents as well which provides evidence that the formula works.
This product has a delicious fruit flavor, and the one-of-a-kind technology stops the skin aging process right in its tracks. Modere Liquid BioCell Life also promotes connective tissue health, supports joints and muscles fitness, supports healthy nails, gums, eyes, and hair.
It only takes a few months to begin seeing results. If you want to optimize your progress, don't miss any days and don't deviate from the recommended dosage.
How to Use: Modere Liquid Biocell Life
Before using, make sure to shake the product well. For optimal results, drink one tablespoon twice per day.
To maintain its shelf life, place the contents in the refrigerator after you've opened it—be sure not to freeze it. You can store any unopened bottle at room temperature out of the sunlight.
Ingredients
Collagen
Hyaluronic acid
Apple fruit juice
Chondroitin sulfate
Mangosteen fruit juice
Grapefruit juice
Noni Fruit
Maqui berry
Pomegranate fruit juice
Strawberry fruit juice
Cranberry fruit juice
Blueberry fruit juice
Nopal Leaf Extract
Japanese Knotweed Root Extract
Jujube fruit
Açaì berry
Side Effects
There are some side effects that you must take into consideration when you consume a collagen supplement. Be advised that you may have a hypersensitivity reaction or be allergic to this product.
If you have any discomfort or severe reactions, consult your physician immediately for recommendations on how to proceed.
Benefits
Reduces mild to severe joint discomfort
Reduces skin dryness
Supports a healthy cardiovascular system
Encourages healthy nails, gums, eyes, and hair
Improves mobility in the joints
Improves skin elasticity, firmness, and hydration
Promotes healthy connective tissue and cartilage
Enhances the collagen in your skin
Reduces the effects of the enzyme (hyaluronidase) that causes your skin to age
https://www.wellness-essence.com/product/modere-liquid-biocell-life/