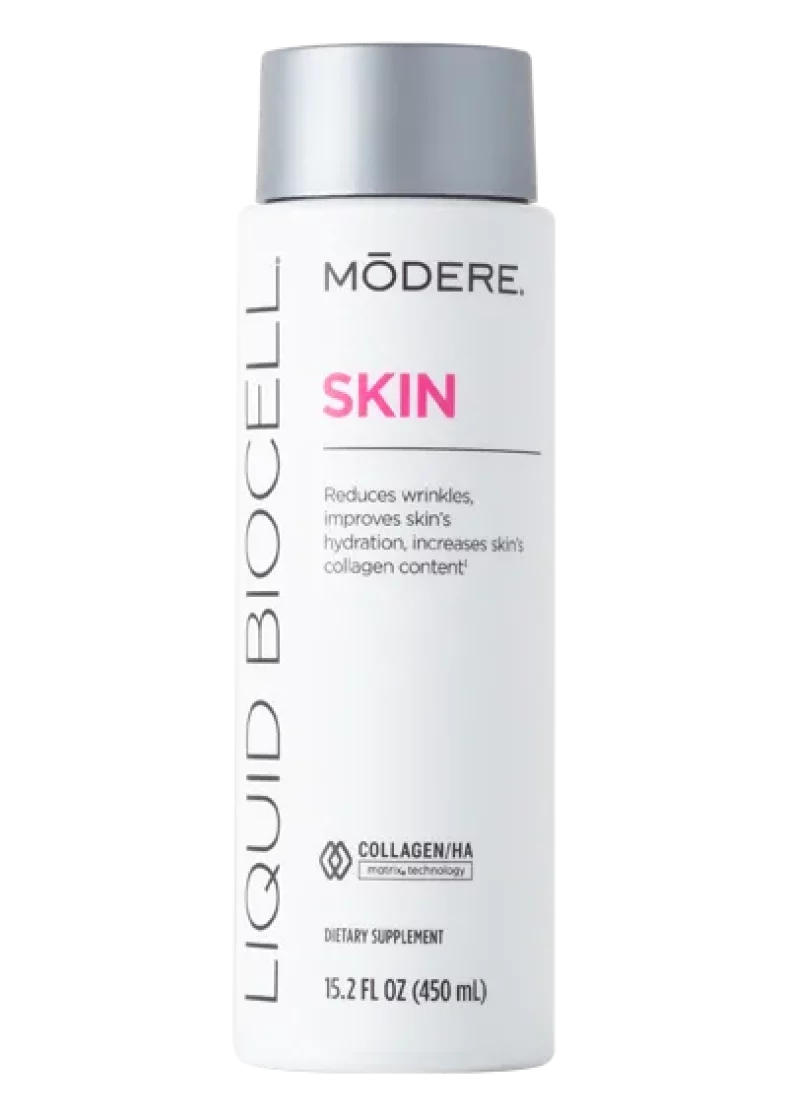 About Modere Liquid Biocell Skin
Modere Liquid BioCell Skin combines the multi-patented supernutraceutical Liquid BioCell collagen with 18 phytonutrient-rich superfoods and ceramides to give proven benefits.  It restores beautiful, youthful skin from the inside out by increasing collagen content.
Its multi-patented Collagen/HA Matrix Technology has been clinically proven to decrease wrinkles, nearly eliminate dryness, and go one step further by helping to inhibit the enzyme that causes the skin to age.  Modere Liquid BioCell also promotes healthy hair, nails, gums, and eyes, as well as improving joint and muscle tone.
What Is Liquid Biocell Skin?
Modere Liquid Biocell Skin is a multi-patented formula backed by scientific studies measuring the effectiveness of Liquid Biocell for reversing the signs of aging.  Modere Liquid Biocell Skin contains 18 phytonutrients, Biocell Collagan HA Matrix and ceramides.  Biocell Skin is designed to revitalize skin health by reversing the signs of wrinkles and fine lines as well as restoring moisture and strengthening the skin (1).
Many skin supplements claim to reduce wrinkles and dryness, and Liquid Biocell Skin is no different. However, this special collagen and hyaluronic acid formula is proven to physically reduce a harmful enzyme (hyaluronidase) in the body that accelerates aging as well as restoring lost collagen in the body (2).  
In addition to having a skin complexion that they can feel proud of, it's common for people taking Liquid Biocell Skin to see improvements in the quality and strength of their hair, gums, nails and teeth.  As well as healthier joints when lost collagen is restored to cartilidge in the bodies joints (3). 
Furthermore, Modere Liquid Biocell will simultaneously use its hydrolyzed collagen type II, chondroitin sulfate, and hyaluronic acid to increase joint mobility and improve muscle tone.
How does Liquid Biocell Work?
From the patented Modere Liquid Biocell formula to skin-healthy antioxidants and absorption agents, Modere Liquid Biocell Skin contains a long list of fascinating and mostly natural ingredients. However, the main ingredient is BioCell Collagen.
When you supplement your diet with BioCell Collagen, it results in several physiological events that help to counteract your natural aging process. Studies of BioCell Collagen indicate that you can expect:
A reduction of UVB-induced photoaging, especially in your face
An increase in skin elasticity
Increased skin hyaluronic acid content 
A reduction in tumor and metastasis expression
A reduction in damaged skin that dries out easily
A reduction in inflamed skin
A reduction in wrinkles 
Enhanced blood microcirculation
Connective tissue protection
Modere Liquid Biocell Skin is an oral supplement that you should take internally twice per day. When you take the ingredients in Modere Liquid Biocell Skin orally, they're able to reach deeper layers of the skin than if you applied it topically, producing better results. 
Active Ingredients Review
Modere Liquid BioCell Skin only contains ten calories, two grams of carbohydrates, and two grams of sugars per serving, making it fit for people following almost any diet.  Active ingredients in Modere Liquid Biocell Skin include BioCell Collagen, 18 fruits and vegetables and concentrates, and a few other extracts.
BioCell Collagen
BioCell Collagen is a patented chicken sternum cartilage derivative. It breaks down further into:  
14 Fruits and Vegetables and Concentrates
Apple, pomegranate, cranberry, acerola, and strawberry fruit juice concentrates: Increase antioxidant micronutrient levels in the blood
Pear, jabuticaba, acai, mangosteen, amia, and maqui fruit: Support antioxidant capacity
Grapefruit juice concentrate: Supports healthy skin
Pomegranate fruit extract: Supports healthy skin
Beetroot: Supports healthy skin
Other Extracts
Bamboo stem and leaf extract, grape seed extract, rice bran and germ extract, green tea leaf extract: Support healthy skin
Science behind Biocell Collagen
In an effort to test the effectiveness of Liquid Biocell Skin, Modere has conducted a detailed study on their patented formula. The results showed that facial lines, wrinkles, and crow's feet significantly reduced their appearance in the 128 non-placebo female participants. 
Furthermore, these women had increased skin elasticity and cutaneous collagen content.
That said, since there haven't been any third-party reviews of Liquid Biocell Skin, we can turn to studies on the ingredients it contains to see how effective they might be. 
In a study run for 90 days on the impact of hydrolyzed collagen supplements on skin aging, researchers noticed a significant improvement in skin elasticity, hydration, and reduction in wrinkles.
Similarly, scientists found that chondroitin sulfate has the potential to promote skin regeneration in wounds. Therefore, it leads them to believe that it has a similar effect in repairing the skin to reduce the appearance of skin aging.Hyaluronic acid also supports these skin-healthy traits, according to several researchers. In a 12-week study, oral ingestion of this supplement noticeably suppressed wrinkles and gave the skin a more lustrous shine. That said, people with cancer or a history of cancer should take care of consuming hyaluronic acid, as it may encourage cancer cell growth.
There don't appear to be many side effects for users of Liquid Biocell Skin. Nevertheless, some people may have sensitivities to certain ingredients it contains. 
Some examples of possible side effects include:
Bloating
Feeling full
Gastrointestinal distress
Bitter taste in your mouth
Allergic reaction to chicken or egg
For this reason, if you have pre-existing conditions or are pregnant, nursing, or taking prescription medications, you should speak with your doctor before supplementing your diet with Liquid Biocell Skin.
Liquid Biocell Skin Benefits
All-encompassing wrinkle reduction from the inside and outside
Promotes increased collagen content in skin
Almost entirely eliminates dryness issues
Suppresses the skin aging enzyme hyaluronidase
Improves the health of nails, hair, eyes, and gums
Sparks microcirculation in the skin
Firmer, more hydrated, and better-toned skin
Lubricates joints for increased mobility 
Aids with improved muscle building and tone
Liquid Biocell Skin Side Effects
Bloating
Feeling full
Gastrointestinal distress
Bitter taste in your mouth
Allergic reaction to chicken or egg
How does Biocell Collagen Work?
BioCell Collagen is one-of-a-kind in terms of molecular structure and biochemical capabilities, both of which are linked to clinical efficacy.
Given the importance of both collagen and GAGs in the structure and function of various connective tissues, this ingredient can be considered a holistic dietary approach, providing highly bioavailable collagen to support not only the skin and joints, but also the tendons and ligaments.
Schwartz, S R.  "Ingestion of BioCell Collagen®, a novel hydrolyzed chicken sternal cartilage extract; enhanced blood microcirculation and reduced facial aging signs."  https://www.ncbi.nlm.nih.gov/pmc/articles/PMC3426261/
Jung, H.  "Hyaluronidase: An overview of its properties, applications, and side effects".  https://www.ncbi.nlm.nih.gov/pmc/articles/PMC7398804/
Hexsel, D.  "Oral supplementation with specific bioactive collagen peptides improves nail growth and reduces symptoms of brittle nails".  https://pubmed.ncbi.nlm.nih.gov/28786550/
Lugo, J P.  "Undenatured type II collagen (UC-II) for joint support: a randomized, double-blind, placebo-controlled study in healthy volunteers". https://www.ncbi.nlm.nih.gov/pmc/articles/PMC4015808/
Yazaki, M.  "Oral Ingestion of Collagen Hydrolysate Leads to the Transportation of Highly Concentrated Gly-Pro-Hyp and Its Hydrolyzed Form of Pro-Hyp into the Bloodstream and Skin".  https://pubmed.ncbi.nlm.nih.gov/28244315/
Hexsel, D.  "Oral supplementation with specific bioactive collagen peptides improves nail growth and reduces symptoms of brittle nails".   https://pubmed.ncbi.nlm.nih.gov/28786550/
Lopez, A L.  "Hydrolyzed Collagen—Sources and Applications".   https://www.mdpi.com/1420-3049/24/22/4031/htm
Lovu, M.  "Anti-inflammatory activity of chondroitin sulfate". https://www.sciencedirect.com/science/article/pii/S1063458408002021
Abatangelo, G.  "Hyaluronic Acid: Redefining Its Role".  https://www.mdpi.com/2073-4409/9/7/1743/htm