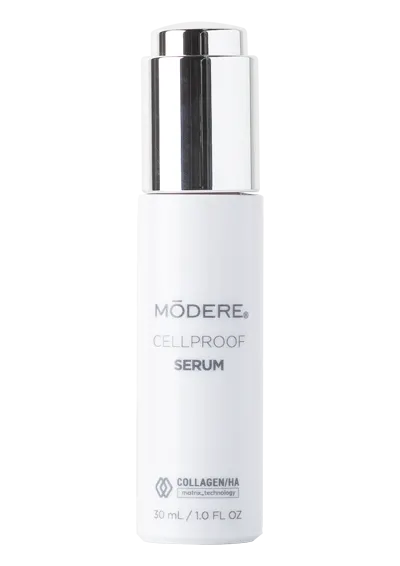 Turning back the clock on our wrinkles and sagging skin sounds great, but we all know that aging is a part of life. There is something you can do to defy the odds and help your skin look younger, though. With Modere Cellproof Serum, you can improve the youthful look and feel of your skin in as little as five minutes.
Looking younger and healthier sounds like a lofty goal, but with Modere Cellproof Serum, you can improve the look and feel of your skin. Smooth, hydrated skin is within reach when you use Modere Cellproof Serum.
Diminish the Look of Aging
As you age, your body produces less collagen and hyaluronic acid. These two naturally-occurring compounds are what makes young skin look taught, smooth, hydrated and glowing. As production decreases with age, we notice sagging skin, fine lines and wrinkles as well as a duller, less hydrated look. The natural effects of aging are accelerated by things like sun damage, exposure to pollution and the stresses of life. Modere Cellproof Serum can help to counteract all of these factors and help your skin look younger and healthier.
Unlike other serums, the key ingredients in Modere's Cellproof Serum are easily absorbed through a topical application. The team of scientists at Modere have figured out how to make hyaluronic acid and collagen penetrate your skin effectively. Most users see visible results in as little as five minutes with noticeable benefits increasing over time. After four weeks, many users report that their deeper wrinkles become less noticeable.
Award-Winning Technology
How does Modere Cellproof Serum do all of that? The key is in their proprietary formulation that combines Modere's BioCell Collagen CG with their patented and award-winning Collagen/HA Matrix Technology to penetrate the skin with hyaluronic acid and collagen peptides from the outside in. Modere has also included a botanical complex in the Modere Cellproof Serum that includes aloe leaf juice, vitamin C, African birch bark, and plum seed oil into the formulation to boost its effectiveness even further.
Using Modere Cellproof Serum
Apply Modere Cellproof Serum after you wash your face in the morning and before bed. Use between three and five drops of serum on your face and neck. Within five minutes, most users notice smoother looking skin. Over time, this formulation further hydrates and smooths the skin. The appearance of fine lines and wrinkles diminishes leaving you with fresh, younger looking skin.
Healthy and Effective
Not only does Modere Cellproof Serum work incredibly well, but it also does its job using only the best quality ingredients. This topical serum is free from harmful parabens and is gluten free. Just like with all of Modere's products, Modere Cellproof Serum is formulated with the safest and healthiest ingredients possible.
The team behind Modere Cellproof Serum not only take the safety of their products incredibly seriously, but they also take the health of the planet seriously. Modere does not test on animals, is grey water approved, and holds certification from the Rainforest Alliance. Their formulas are biodegradable and shipped in recyclable packaging. Visit our website for more details.