How Does the Lean Body System Work?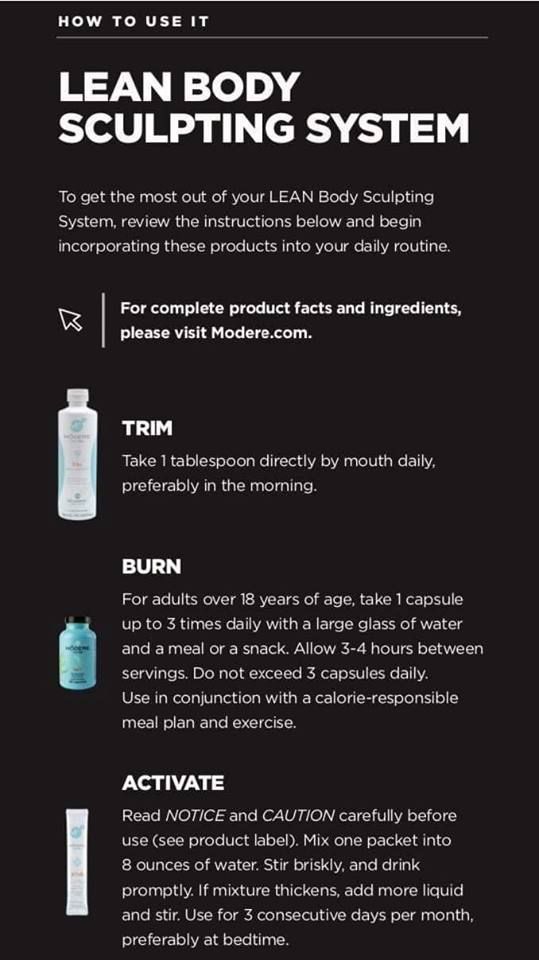 What is the Lean Body System?
The Modere Lean Body System works by offering a 3 part nutrition supplementation plan in conjunction with 3 lifestyle changes.  The combination of lifestyle changes with weight loss supplements helps to progress the weight loss and body recomposition process. 
The Lean Body System works with three products:
Modere Trim: Uses conjugated linoleic acid and patented Collagen/HA Matrix Technology to reduce fat cell formation. Use one tablespoon directly each morning.
Modere Burn: Boost metabolism, burns more calories, and may help maintain blood sugar levels, reducing cravings. Take one capsule three times a day.
Modere Activate: Helps the digestive system, rejuvenates cellular health, and eliminates toxins. Use for three days consecutively each month before bedtime.
How Does Lean Body System Work?
It is not only about the number on the scale when it comes to reaching your ideal weight.  But also it is important to consider your body composition – the ratio of fat to muscle in your body.
Modere Lean Body System works by combining Trim, Burn, and Activate technologies to completely reshape your body in six ways*:
Support fat-burning metabolism*

Block fat transport*

Inhibit fat absorption*

Reduce fat cell size*

Reduce fat cell formation*
Improve muscle tone and body composition*
Modere Activate: Jumpstart your goals by mixing one stick pack of Activate with 8 oz of water for three
consecutive days each month.
Activate is a monthly cleanse with natural, plant-based ingredients such
as aloe vera, apple pectin and psyllium seed husk, formulated to eliminate toxins and rejuvenate cellular
health.
Best of all, no fasting is necessary. We recommend using Activate in the  evenings for a gentle cleansing experience.*
Modere Burn: Take one capsule of Burn three times daily with a large glass of water and a meal or snack.
Burn is a thermogenic, meaning that it helps stimulate your metabolism through cellular heat production known as thermogenic metabolism.
Modere recommends taking your first capsule in the morning with breakfast, then a second capsule 3-4 hours later
with a morning snack or lunch, and taking one more capsule after another 3-4 hours with an afternoon snack.
This will increase your calorie burn and energy levels throughout the day.*
Modere Trim: Take one tablespoon of Trim each morning. Your daily dose of Trim can be taken alone or added
to coffee, a smoothie or any other healthy breakfast food you usually enjoy.
This award-winning formula contains CLA to improve muscle tone and support fat metabolism, along with patented Liquid BioCell Collagen to restore youthful skin and support joint and muscle fitness and connective tissue health.
Trim is available in 4 delicious flavors: Chocolate, Coconut Lime, Vanilla and Lemon.
WHAT IS THE KEY TO SUCCESS IN GETTING RESULTS WITH FITNESS? COMMITMENT.
Commit to a program and stick with it. If you're getting up each morning without a plan for the day, you're sure to fail. Decide to follow the program and stick to the schedule you've created for yourself. Get into a routine as soon as possible.

It will become easier and easier as you get into better shape and begin to see
results. Before long, you will have created a healthy habit that will pay dividends for years to come. If you want to take your fitness goals up a notch, augment your three lifestyle changes by following our
Lean Body System fitness guide.
**Note: Modere recommends 25-30 minutes of exercise training on each  workout day to maximize weight loss results. 
To keep things simple, do three sets, 30-60 seconds of each exercise when alternating exercises. We recommend picking three exercises and rotating through three sets of each, then choosing another three exercises and rotating through three sets of those. Repeat this process until you've completed 25-30 minutes of exercise.
Before you get started, don't forget to take before pictures and measurements. By
documenting your progress every week, you'll notice even subtle changes that are sure to motivate and encourage you to keep going.
Set up your photos using the same clothing,  background, lighting and
poses each week so it's easier to compare and track your progress! You can use the self-timer on your phone to take your photos, or get a friend to help.
Lean Body System Ingredients
Since there are three products involved in  how the Modere Lean Body System works, many key ingredients impact the system's effectiveness.
Read on to find out more about the efficacy of the Lean Body System ingredients and their contribution to weight loss and overall health.
Modere Trim Ingredients
The two primary ingredients in the Modere Trim are conjugated linoleic acid (CLA) and liquid biocell, targeting fat and improving skin health.
Conjugated Linoleic Acid
The conjugated linoleic acid (CLA) is from safflower oil, even though CLA is supposed to be an omega 6-fat found in animal products.
The Journal of the International Society of Sports Nutrition (1) found that CLAs found in meat may alter the body composition of humans by reducing body fat.
However, studies on using CLA from safflower oil are non-conclusive, although there may be promising evidence it can help with weight loss.
The American Journal of Clinical Nutrition (2) compared CLA with safflower oil and noticed their participants became leaner, reducing trunk adipose mass. The participants were postmenopausal women with type 2 diabetes and saw improvements in their glycemic control and weight loss. As a result, it is recommended as a dietary supplement.
Liquid BioCell
The Liquid Biocell from Modere is a patented formula that has won various awards since 2010.
It is categorized as proprietary chicken sternal cartilage extract. The main goal is to provide collagen type II peptides.
While there are no studies on Modere Liquid Biocell, there are studies on similar products with the same chicken sternal cartilage extract.
Alternative Therapies in Health and Medicine (3) found that chicken sternal cartilage extract supports collagen types I/III, promoting fewer wrinkles and more skin elasticity.
Modere Burn Ingredients
The Modere Burn ingredients aim to accelerate fat loss and boost overall health while reducing insulin resistance.
Vitamin C
For years, vitamin C has been lauded as a key nutrient for immunity, bone health, skin health, and much more.
The Modere Burn contains 150 mg of vitamin C, which is 167% of the daily recommendation based on a 2,000 calorie diet.
The Journal of American College of Nutrition (4) states individuals with "adequate" amounts of vitamin C in their system oxide 30% more fat during moderate exercise. They conclude those without enough vitamin C may be resistant to fat loss.
Chromium
Modere uses 80 mg Chromax chromium picolinate, which is 229% daily recommended based on a 2,000 calorie diet.
Most studies on chromium picolinate involve observing the reduction in blood sugar levels in participants with diabetes.
The Journal of Trace Elements and Electrolytes in Health and Disease (5) found that chromium picolinate contributes to normal blood sugar function and lipid metabolism. Moreover, chromium picolinate has positive effects on the overall well-being of individuals due to its glycemic control with type 2 diabetes patients.
ThermoBlend
The Modere Burn contains a "ThermoBlend" of various extracts that contain naturally occurring caffeine. This includes caffeine from coffee bean extract, green tea leaf extract, and green coffee bean extract.
The Natural Medicine Journal found that green coffee bean extract (6) had a massive impact on weight loss compared to placebos.
Other supplements into the ThermoBlend include kelp extract, Chocamine, Olive Fruit Extract, Ginger Root, Cassia Cinnamon Bark, and more.
Modere Activate Ingredients
The Modere Activate is advertised as an organic, non-GMO, sugar-free formula that complements a fat loss regimen.
Proprietary Blend
The proprietary blend for the Modere Activate involves plant-based ingredients, such as:
Psyllium Seed Husk: Mostly known as a fiber that helps regulate the digestive system. It is used to ease constipation and may lower cholesterol.
Apple Fruit Pectin: A soluble fiber that also helps with diarrhea and lowers cholesterol. It may also reduce blood sugar and carbohydrates in the blood.
Turkey Rhubarb Root: A plant that has various medicinal uses, such as tackling obesity, gum disease, constipation, kidney disease, and more.
Milk Thistle Seed Extract: Mostly known to help with liver disease and other ailments such as cirrhosis. Also, those with hepatitis C and diabetes may experience benefits.
Ginger Rhizome Extract: Used for its anti-inflammatory properties.
Dandelion Leaf and Root Extract: A traditional medicine used for liver injury, diabetes, treat skin conditions and reduce blood pressure.
Aloe Vera Inner Leaf: A plant with a clear gel substance that produces various benefits for skin conditions, regulates blood sugar levels, and fights obesity.
Most of these ingredients have herbal effects, such as milk thistle, which many researchers believe helps the liver and lowers blood sugar levels. Milk thistle is also known for cleaning the liver safely and effectively.
Overall, these herbal, plant-based ingredients may help regulate the digestive system and glucose levels, reduce inflammation, and ultimately promote a healthier lifestyle.
Lean Body System Results
REAL PEOPLE – REAL RESULTS
"Trim has been a game changer! Not to mention my skin looks AMAZING!" **

"Keeps me focused and energetic all day. No late afternoon crash, midday cravings, or caffeine jitters. One of my top Modere products!" **

"First detox where I did not have to starve myself, eat weird food or run to the washroom in the middle of the day! Super easy to follow and will be a new monthly regimen for me!" **
On Amazon, the Lean Body System has 3.5/5 ratings with few comments. One customer expressed the product was overhyped and didn't work.
However, the reviews with each product separately, such as the Modere Burn, Modere Trim, and Modere Activate, also give insight into people's results.
One user of Modere Trim found that they began to see results after some time, combined with a healthy lifestyle.
A 60-year old who uses Modere Burn states they felt they had more energy and a curved appetite.
Lastly, Modere Activate received praise, with one user stating they take it religiously every month.
Bottom Line on How Modere Lean Body System Works
In our Modere Lean Body System study, we've concluded that this product has exceptional ingredients, with studies backing the efficacy of the main ingredients.  Also there is anecdotal evidence that shows that the Lean Body System does result in weight loss.  However it is a bit unclear about how much weight loss is contributed to the lifestyle changes versus the supplements themselves. 
The Modere Lean Body System uses three separate products that work together to boost energy, reduce fat, and increase skin health—an added plus not seen with other weight loss products.
The bottom line—results may vary depending on how well you can stick to the lifestyle changes.  However many people have attained successful weight loss by using Modere Lean Body System. 
In all, begin your journey today by getting your Lean Body System through an independent distributor to avoid imitations and scams. Wellness Essence allows you to buy the Lean Body System at the source without the hassle—start today!