Modere Liquid BioCell Immune (2ct)
Liquid BioCell Immune includes our patented Modere TriPlex Immune ComplexTM to support your immune system, as well as the clinically proven Collagen/HA Matrix Technology that is totally transforming the way you age.
About Modere Liquid Biocell Immune
Liquid BioCell Immune is the supernutraceutical that supports healthy aging and enhanced immune response in one groundbreaking formula. Multi-patented Collagen/HA Matrix Technology improves joint mobility and lubrication, reduces joint discomfort, and promotes healthy cartilage and connective tissue, while also reducing wrinkles from the inside out. Our exclusive Modere TriPlex Immune Complex adds elderberry, zinc and 13 phytonutrient-rich superfoods to bolster your immune system and support respiratory and cardiovascular health. All in a unique liquid delivery system that provides fast absorption and unparalleled results.*
In a unique liquid delivery system, Liquid BioCell Immune combines the multi-patented power of Liquid BioCell with the added benefits of our trademarked Modere TriPlex Immune ComplexTM for fast absorption and outcomes. Elderberry, zinc, and 13 phytonutrient-rich superfoods work together to improve respiratory and cardiovascular health while also boosting your immune system.
Natural wear and tear of connective tissue, where both collagen and hyaluronic acid (HA) are important, can result in visible signs of aging and joint stiffness.
Liquid BioCell restores these vital elements and has been clinically proven to be effective.  Liquid BioCell has received seven US and foreign patents, as well as other industry accolades.  NBC, Good Morning America, and Fox News have all aired it.
Benefits
Improves joint mobility & lubrication*
Reduces joint discomfort
Reduces wrinkles from the inside out*
Improves skin's hydration, firmness and elasticity
Promotes healthy hair, nails, gums and eyes*
Bolsters your immune system
Supports respiratory & cardiovascular health*
Boosts vitality
Features
Provides award-winning Collagen/HA Matrix® Technology
Features Modere TriPlex Immune Complex™ (an exclusive blend of elderberry, zinc and 13 superfoods)
Great-tasting natural fruit flavor
Non-GMO, gluten-free, dairy-free
15 calories per serving, 3g carbs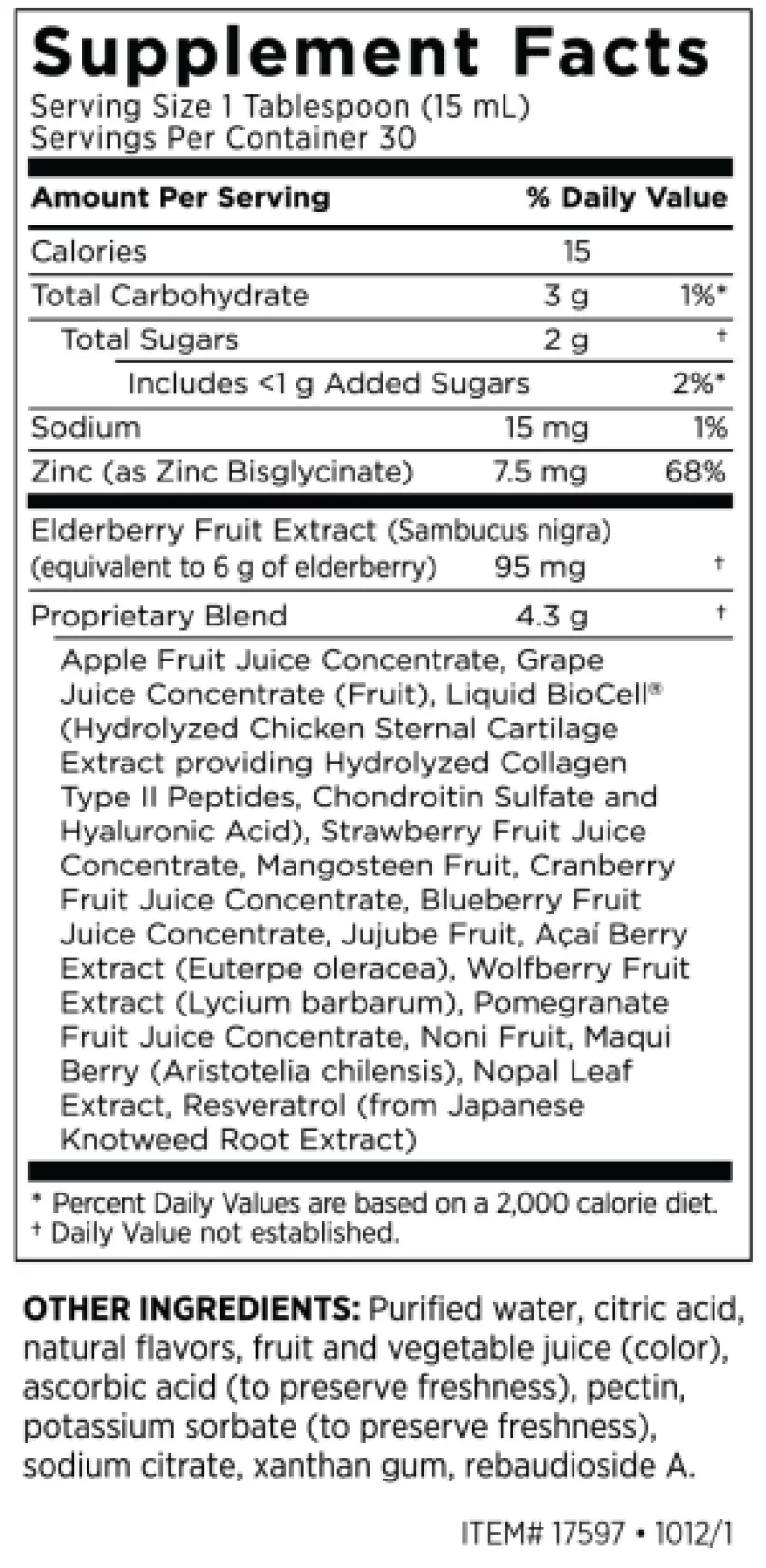 Key Ingredients
• Liquid BioCell Collagen Matrix
• Modere TriPlex Immune Complex
Product Ingredients
• Improves joint mobility & lubrication*
• Reduces joint discomfort*
• Improves skin's hydration, firmness & elasticity*
• Promotes healthy hair, nails, gums & eyes*
• Bolsters your immune system*
• Supports respiratory & cardiovascular health*
• Boosts vitality*
• Great-tasting natural fruit flavor
• All products formulated with our exclusive Collagen/HA Matrix Technology counteract skin photoaging, support joint and muscle fitness and connective tissue health, restore youthful skin, and support healthy hair, nails, gums and eyes*
Modere Liquid Biocell Immune FAQ

Modere Liquid BioCell Immune (2ct)