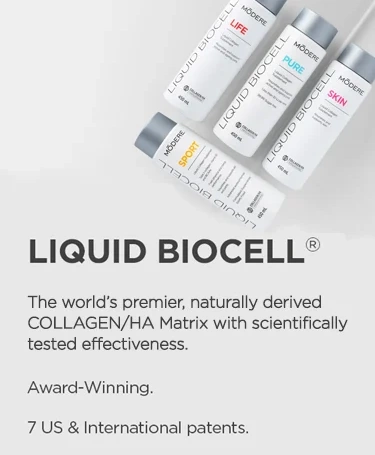 There are hundreds, if not thousands, of anti-aging beauty and health products on the market. From pills to powders to drinks, people from all walks of life are eager to find the magic formula to slowing down the aging process. Modere Liquid BioCell is a revolutionary anti-aging product that is becoming increasingly more popular with people from coast to coast. Let's look at five key characteristics of Liquid BioCell you should know about.
1. What is it?
You may have heard about Liquid BioCell, but what exactly is it? Modere Liquid BioCell is a non-toxic, naturally derived collagen and hyaluronic acid matrix used to assist with aging. Liquid BioCell combines highly absorbable collagen with hyaluronic acid and chondroitin sulfate to mirror human articular cartilage composition. In other words, the formula replenishes your body's collagen and hyaluronic acid stores to tackle aging. The powerful formula has been clinically shown to support join and connective tissue health and to inhibit hyaluronidase, the enzyme responsible for degrading hyaluronic and causing skin aging.
2. The Role of Collagen
You know Modere Liquid BioCell utilizes collagen to provide benefits to the human body, but what is collagen and what role does it play? Collagen is the most abundant protein found in the human body. From assisting with blood clots to helping skin stay firm, collagen plays many important roles in our bodies. It is often thought of as the glue that holds our bodies together! Collagen is a natural ingredient that can be classified into one of several groups, depending on its characteristics.
3. Joint Support
Modere Liquid BioCell comes with a wide range of benefits for bodies that are on the move. Liquid BioCell can be used to improve joint mobility, lubrication, and to reduce discomfort. Ingredients found inside Liquid BioCell can promote healthy cartilage and connective tissue. Ingredients found in the serum may even stimulate the body to produce new collagen.
4. Skincare
Not only can Liquid BioCell improve joint health, but it can also improve the appearance of aging skin. Modere Liquid BioCell can help to reduce wrinkles, improve skin hydration, and improve firmness. The ingredients that make up Liquid BioCell provide incredible benefits to skin and can even help restore a more youthful appearance.
5. Application and Storage
Modere Liquid BioCell is simple to use and can be incorporated into any daily routine. Before consumption, make sure to shake the container well. For adults, the recommended serving is one tablespoon twice a day for optimal results. Once opened, you can store your Liquid BioCell in the fridge to extend its life. Unopened containers should be kept out of direct sunlight at room temperate.
Incorporating Liquid BioCell into a Healthy Lifestyle
Modere Liquid BioCell makes for an excellent addition to any healthy lifestyle. Our Liquid BioCell is completely natural, non-toxic, and BPA-free. Modere takes pride in its commitment to provide clients with clean label products that are created without animal testing and that are packaged in recyclable packing. Whether you are looking for relief from joint pain or rejuvenation for aging skin, our Liquid BioCell is here to make aging more comfortable. Visit our website to know more.
1,961 total views, 4 views today